Germany's Green Prince
In addition to publishing Hints on Landscape Gardening by Prince Hermann von Pückler-Muskau in association with Birkhaüser in 2014, the Foundation for Landscape Studies has sponsored an English translation of Briefe eines Verstorbenen (Letters From a Dead Man), also the work of the great landowner and garden maker who is sometimes called "Germany's Green Prince." Pückler's letters, which have been translated with fidelity and verve by landscape historian Linda Parshall, were written to his wife Lucie von Hardenberg during his extended journey for the purpose of – yes – marrying a British heiress. Why, you may ask. Reading the letters, it becomes apparent that Pücker was deeply devoted to Lucie. Without severing the bonds of affection and mutual support that united them, they agreed to get what might be termed a divorce of convenience in order to continue their great enterprise, the conversion of his inherited Silesian principality into one vast Romantic landscape, Park Muskau.
It is hard to imagine an English bride whose parents have traded a dowry for a title as a happy member of a ménage à trois. But this was an age when many impecunious Continental aristocrats went wife hunting in the world's most prosperous nation, and no one was deceived as to the respective motives of fortune hunter and social climber. Subterfuge aside, there was nothing particularly reprehensible in Pückler and Lucie's going to such lengths to obtain the necessary funds to indulge what he called "parkomania": an insatiable desire to plant and prune trees to frame broad vistas; build carriage drives and pathways to peregrinate through extensive woods and meadows; partially dam streams with boulders to create waterfalls; and employ several gardeners to maintain the most picturesquely naturalistic—yet carefully contrived—panoramic stretch of scenery imaginable.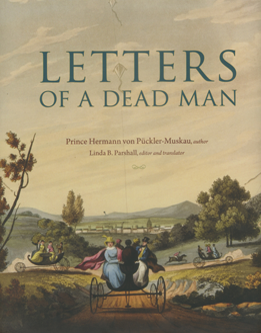 Written in a diaristic mode, the letters are filled with keen observations and delightful descriptions of Regency England in its age of growing prosperity. Since Pückler was a frequent guest in Brighton and London ballrooms, we are treated to numerous charming descriptions of the guests and lavish hospitality he received, whichhe penned after returning in the dawn hours. In addition, it seems that he traveled everywhere throughout the countryside in his well-appointed carriage, for the letters contain keen observations of scenery and the landscape design of many of the great country estates he visited – again, think Downton Abbey – and where he was frequently a welcome guest. He invariably used such opportunities to walk through the art galleries of his hosts, viewing and commenting on masterpieces by the likes of Titian, Raphael, and Holbein, (these fabulous works of art had not at that time been sold to national museums and American Gilded Age magnates). In these places we follow him outdoors as he gives perceptive critiques from the perspective of an experienced designer.
Pückler has more to recount than simply the people and places he visited on his pleasure-packed itinerary. In one letter we accompany him as he goes down in a diving bell in order to see a tunnel that is being built beneath the Thames. In another we observe him engaging in friendly conversations with the inmates of Newgate Prison.
Letters of a Dead Man was from the beginning intended for publication once the contents of the packets dispatched to Lucie were collated and edited. The book, which was endorsed by none other than Goethe, enjoyed an instant success and was as popular in England as in Germany. This was fortunate since the bride hunt had not been a success and the revenues from this runaway best seller subsidized, at least for a few more years, the ongoing improvements to Park Muskau.
The Foundation for Landscape Studies' new translation, produced in association with Dumbarton Oaks Research Library and Collection and Stiftung Fürst-Puckler-Park Bad Muskau, is a massive, unabridged tome (the original German edition was published in four separate volumes) seven hundred pages in length and weighing eight pounds. At first you will think it too heavy to pick up and much too long to read. Do not be deterred. Once you have started on your travels with Prince Pückler, you won't be able to put it down.
To read more about this extraordinary book, visit our blog page. To purchase your copy, please click here.