Celebrate our 2014 Place Maker and Place Keeper Awardees
The Foundation for Landscape Studies is proud to honor William Christie and Adele Chatfield-Taylor on May 1, 2014, at its annual Place Maker / Place Keeper Awards Luncheon. Please join us in Central Park at the Boathouse!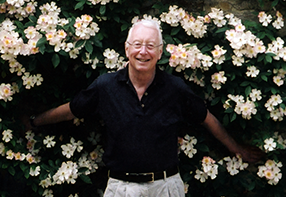 Place Maker
William Christie, musical director, harpsichordist, and founder of the Baroque music ensemble Les Arts Florrisants, has gained renown worldwide for his concert performances. To further training in the seventeenth- and eighteenth-century repertoire, he created an academy for young singers (Le Jardin des Voix) in Caen, France, in 2002. In 2007 he extended his teaching career to include American students, accepting the position of artist-in-residence at the Julliard School in New York City.
A resident of France since 1971, Bill has restored an ancient manor house on his property in the department of the Vendée in the Pays-de-la-Loire region of west-central France. On several acres surrounding the house, he has created a stunning and highly original garden that was designated a monument historique by the French government in 2006. To bring his passion for early music, teaching, and gardening into perfect harmony, in 2012 he launched an annual festival, Dans les Jardins de William Christie. During the festival, laureates of Le Jardin des Voix and Julliard perform throughout the garden.
Bill was named a Chevalier de la Légion d'honneur in 1993 and elected a member of the French Académie des Beaux-Arts in 2008. He is also an officer of the Ordre des Arts et des Lettres.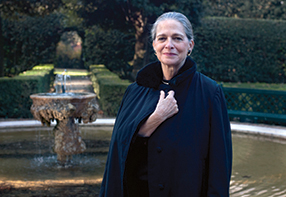 Place Keeper
Adele Chatfield-Taylor was president and CEO of the American Academy in Rome from 1988 until 2013. During her quarter-century tenure, she led the rebuilding of the institution and its gardens. She oversaw the renovation of the Mercedes and Sid R. Bass Garden, located behind the academy's McKim, Mead & White headquarters building and the redesign of the Secret Garden of the academy's Villa Aurelia by Laurie Olin, Millicent Mercer Johnsen, and Alessandra Vinciguerra. She increased the academy's endowment by nearly ten-fold and restored the number of Rome Prize fellowships to thirty. She supervised the restoration of the Arthur and Janet C. Ross Library and established an endowment for the Drue Heinz Librarian.
For her contributions to the city of Rome, Adele was named a Grande Ufficiale dell'Ordine al Merito by the president of the Republic of Italy in 2002. In 2007 she initiated the Rome Sustainable Food Project under the guidance of Alice Waters. In 2010 the National Building Museum awarded her the twelfth Vincent Scully Prize, which is granted for exemplary practice, scholarship, or criticism in architecture, historic preservation, and urban design.