Congratulations to Elizabeth K. Meyer!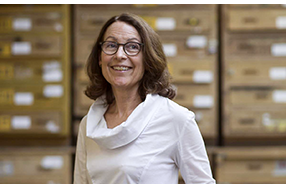 Conferred annually by the National Building Museum in Washington, DC, the Vincent Scully Prize is bestowed on an individual whose work embodies the spirit of the renowned Yale University professor whose teaching inspired generations of students in the fields of architecture, urban planning, and landscape design. The occasion of Elizabeth K. Meyer's receipt of this prestigious award on October 30, 2019, was combined with a conversation with Thaïsa Way, Resident Program Director for Garden and Landscape Studies at Dumbarton Oaks Research Library and Collections.
With an audience of three hundred in the grand central hall of the National Building Museum, Meyer, whose teaching focuses on cultural landscapes and biophysical processes, discussed how urban planning and topographies correlate with race and privilege; how plants and animals collaborate in place making; why nonnative plants are necessary for resilient landscapes; and why aesthetics matter in responses to climate change. She also spoke about the ways in which public space, living systems, and nonhuman species are often overlooked in cultural landscape interpretation and holistic landscape design.
Recognized internationally as one of the most significant theorists in landscape architecture, Meyer's scholarship shapes the intellectual development of students and colleagues. She has published some of the most cited references in the field, critical essays that inform practice as well as teaching. For this scholarship she has been awarded funds and support by the Graham Foundation, the National Endowment for the Arts, and Dumbarton Oaks, among other foundations. Her writing is taught in most every (if not every) school of landscape architecture, whether on modernism, history and theory, sustainable beauty, or sites.
Meyer is currently serving a four-year term as vice-chairman of the Commission of Fine Arts, the permanent body appointed by Congress to advise the federal government on matters pertaining to the arts and national symbols, and the architectural development of Washington, D.C. In this capacity she has expressed her concern about the proliferation of war memorials on the National Mall.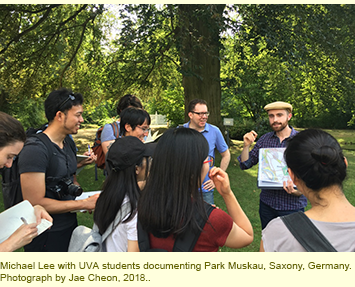 In addition to her teaching responsibilities in the landscape architecture program at UVA's School of Architecture, Meyer is the founder of the University's Center for Cultural Landscapes, a research center that forms a collaborative hub for scholars and practitioners seeking to create new models for cultural landscape research, interpretation, preservation, and adaptive use. The Center produces research and creates new models of innovative cultural landscape stewardship in the region, the nation, and around the globe. They are an interdisciplinary group of academics and designers who are connected to, and collaborate with, a larger group of associated professionals and organizations to achieve this mission. Their work focuses on increasing awareness of the historical, ecological, and social value of cultural landscapes through innovative scholarly research, site documentation and fieldwork, planning, preservation, management, and design.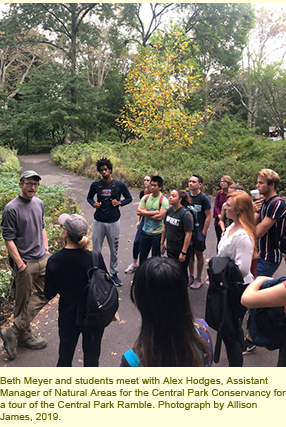 Housed within the Center for Cultural Landscapes, Meyer's most recent multidisciplinary collaborative program is the UVA Landscape Studies Initiative, a digital humanities project focused on innovative pedagogical approaches to, and tools for, teaching and researching the history of the designed landscape. The core framework for the informational and visual infrastructure of this new program is the classic textbook Landscape Design: A Cultural and Architectural History, by Elizabeth Barlow Rogers. Unlike books on paper that necessarily must be updated by sequential subsequent editions, through this project, this book will be continuously expanded and updated digitally with new scholarship, fresh bibliographic entries, relevant website links, and an ever-expanding archive of landscape design research and digital images. Through the narrative structure of Landscape Design, as well as the designers, projects, images and texts woven into that narrative, this text defines the designed landscape as a cultural product, a social product and a work of art. In the spirit of making connections between design history and other histories – eg. intellectual history and cultural history – the project is focusing on interpreting the designed landscape through a series of thematic lenses, each of which is grounded in recent or emerging theoretical positions, historical methods and design technologies/techniques.
To test the ways in which the initiative works as a teaching tool, two pilot programs are currently underway. Their subjects are Park Muskau in Germany and Central Park in New York City. Both involve fieldwork as an important component of study. For classroom and library use, fundamental texts include the Foundation for Landscape Studies' translation with facsimile plates of Prince Pückler Muskau's Hints on Landscape Gardening and the Central Park Conservancy's Rebuilding Central Park: A Management and Restoration Plan. Current and future pilot projects include, Palladio's Villa La Rotonda: a Prototypical Site for Cultural Heritage Documentation and Scholarship 2019–2020; Racialized Topography of Jeffersonian Landscapes, 19th c Charlottesville, VA; and Carmontelle & Parc Monceau.
The Foundation for Landscape Studies intends to further nourish the UVA's new Landscape Studies Initiative through its future publications, donations of books, and gifts of original photographs and digital scans of rare-book images of historic landscapes.