Congratulations to Therese O'Malley, retiring from the Center, National Gallery (1982-2021)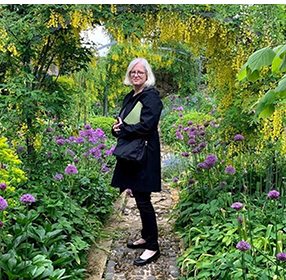 In September 2021, Therese O'Malley retired from her position as associate dean of the National Gallery of Art's Center for Advanced Study in the Visual Arts. During her thirty-four-year tenure, she designed, organized, and oversaw numerous scholarly and public programs at the Center, an internationally renowned research institute in the history of art. Her responsibilities in the first decade included the administration of the fellowship program which drew scholars from around the world. She then oversaw the program of scholarly meetings, including study days, symposia, and the annual Andrew W. Mellon Lectures in the Fine Arts. As the Center's series editor for Studies in the History of Art and the Seminar Papers, she shepherded more than forty volumes of seminal scholarship to publication.
O'Malley's numerous contributions to the history of landscape and garden design includes the award-winning Keywords in American Landscape Design (Yale University Press, 2010) and her oversight of the digital research project History of Early American Landscape and Design, an important digital resource that resides on the National Gallery's public website.
O'Malley also served for fifteen years as chair of the Foundation for Landscape Studies' Book Awards Committee, which now helps to extend the Foundation's legacy resources under the administration of the Landscape Studies Initiative, a multi-dimensional open-source research and field-work program under the aegis of the University of Virginia's Center for Cultural Landscapes.