2020 Place Maker / Place Keeper Honorees
Since we are unable to gather at the Central Park Boathouse as in the past for our annual benefit luncheon honoring an outstanding creator of a special garden and a dedicated steward of an existing landscape, we hope that you will nevertheless join us join us in spirit this year by giving a tax-deductible contribution and a round of virtual applause for our two honorees.
Place Maker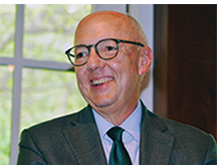 Frederic C.Rich, an attorney, is of counsel to Sullivan & Cromwell LLP, where he was a partner for many years. An author and committed environmentalist, he is a vice-chairman of the Land Trust Alliance, a national land-conservation group; a longtime director and former board chairman of Scenic Hudson, a fifty-year-old organization dedicated to land conservation and environmental quality in the Hudson River Valley; and the chairman of the Foundation for Landscape Studies. As a place maker, he has designed a large landscape garden with views of the Hudson River in Garrison, New York. He is also the creator of an organic garden overlooking New York City's Battery on a rooftop adjacent to his apartment.
Place Keeper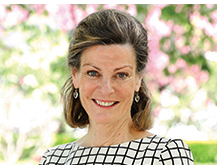 Elizabeth "Betsy" Smith was appointed president and CEO of the Central Park Conservancy in 2018. In this capacity she oversees the protection and enhancement of the park through dedicated daily maintenance, well-regulated public events, successful fundraising, astute marketing, and frequent constituency communications. As the current place keeper-in-chief, she is also spearheading a strategic plan that addresses usage of the park, which was increasing back in normal times and will again. Her goal is to foster its continued stewardship through a commitment to financial sustainability, operational excellence, and engaged governance.
To make a contribution via our secure online donation website, click here.
To make a contribution by mail using a check or credit card, click here.