Guidelines
Coffin Grant Recipients
Jackson Prize Recipients
Place Maker Award Recipients
Place Keeper Award Recipients
Lifetime Achievement Award Recipients

2011 Place Maker Award
Douglas Dockery Thomas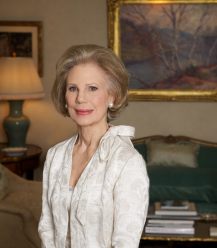 The Foundation for Landscape Studies is proud to honor Douglas Thomas with its 2011 Place Maker Award for creating a landscape of extraordinary environmental sensitivity and beauty.
At Twin Maples, their estate in Salisbury, Connecticut, Douglas and her husband, Wilmer, have created a series of remarkable gardens. A formal garden complements the architecture of the manor house, a potager provides fresh vegetables and salads, espaliered pears and apples offer fruit for the table, and a conservatory ensures that there are fresh flowers in the home year-round.
As significant as these horticultural features are, Douglas's most notable achievement at Twin Maples is the creation of a forty-acre wildflower meadow with spectacular views of the Berkshire Mountains. The meadow is composed of perennials, annuals, and grasses that form a subtly colored and richly textured plant tapestry. In its entirety, Twin Maples exemplifies place making as an art form of great importance.