Guidelines
Coffin Grant Recipients
Jackson Prize Recipients
Place Maker Award Recipients
Place Keeper Award Recipients
Lifetime Achievement Award Recipients

Lifetime Achievement Award for 2011
Frank Cabot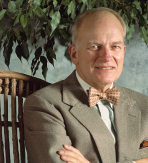 The Foundation for Landscape Studies is proud to confer its Lifetime Achievement Award on Frank Cabot, who has been a visionary place maker and place keeper for over half a century.
Frank's superb skill as a place maker is evident both at Stonecrop, his garden in Cold Spring, New York, and at Les Quatre Vents in Charlevoix County, Quebec. He has chronicled the creation of his Canadian paradise in The Greater Perfection: The Story of the Gardens at Les Quatre Vents, which received the 2003 Literature Award from the Council on Botanical and Horticultural Libraries.
Frank's significance as a place keeper is spectacularly evident in his founding in 1989 of the Garden Conservancy, a national organization dedicated to helping perpetuate great gardens for the education and enjoyment of the public. To date the Garden Conservancy has helped over ninety gardens across America thrive and prosper. The futures of these places are secure because of Frank Cabot's lifetime passion for plants, horticulture, and gardens.