Guidelines
Coffin Grant Recipients
Jackson Prize Recipients
Place Maker Award Recipients
Place Keeper Award Recipients
Lifetime Achievement Award Recipients

The John Brinckerhoff Jackson Book Prize for 2020
The Foundation for Landscape Studies is pleased to announce the awardees of the 2020 John Brinckerhoff Jackson Book Prize for recently published books that have made significant contributions to the study and understanding of garden history and landscape studies. The recipients are listed in alphabetical order.
Cynthia S. Brenwall
The Central Park: Original Designs for New York's Greatest Treasure
Abrams Books, 2019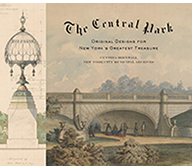 Drawing on the collection in the New York City Municipal Archives, Cynthia S. Brenwall tells the story of the creation of Central Park from its conception to its completion. This treasure trove of material ranges from the Greensward Plan – the original winning competition entry for the design of the park – to meticulously detailed maps of its landscape, and plans and elevations of both built and unbuilt buildings. The book also includes designs for a variety of park fixtures as well as intricate engineering drawings of infrastructure elements. In addition, a virtual time machine takes the reader on a journey through the park as it was originally envisioned. The Central Park is both a magnificent art book and a message from the past about what brilliant urban planning can do for a great city.
Cynthia S. Brenwall, a conservator and art historian, has worked for the New York City Municipal Archives since 2012. During her tenure there she has cared for some of New York's most important historical documents, including the Central Park collection of architectural drawings, which were conserved and documented under her supervision.
Dilip da Cunha
The Invention of Rivers: Alexander's Eye and Ganga's Descent
University of Pennsylvania Press, 2019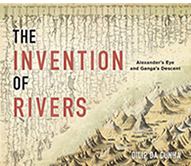 The author of this book integrates history, art, cultural studies, hydrology, and geography to tell how rivers have been culturally constructed as lines defining patterns of human habitation and transportation. He analyzes waterways in terms of human design as well as topography, as exemplified in documents going back to ancient Greek cartography. By focusing on rivers, da Cunha depicts an ecosystem that is neither land nor water but one of ubiquitous wetness in which rain is held in soil, aquifers, glaciers, snowfields, building materials, agricultural fields, air, and even plants and animals.
Dilip da Cunha is an architect and planner based in Philadelphia and Bangalore. He is co-director of the Risk and Resilience concentration in the Master in Design Studies program at Harvard University's Graduate School of Design and an adjunct professor in the Graduate School of Architecture, Planning and Preservation, Columbia University.
Michael Ezban
Aquaculture Landscapes: Fish Farms and the Public Realm
Routledge, 2019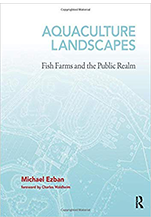 Aquaculture Landscapes recovers aquaculture as a practice with a deep history of constructing extraordinary landscapes. These landscapes are characterized and enriched by multispecies interdependency, performative ecologies, collaborative practices, and aesthetic experiences between humans and fish. Aquaculture Landscapes presents over thirty contemporary and historical landscapes, spanning six continents. Within this expansive scope is a focus on urban aquaculture projects by leading designers that employ mutually beneficial strategies for fish and humans to address urban coastal resiliency, wastewater management, and other contemporary urban challenges.
Michael Ezban is an assistant professor in Landscape Architecture and Urban + Environmental Planning at the University of Virginia School of Architecture. He is a landscape designer, architect, scholar, and educator. His work is focused on landscapes and buildings designed to mediate relations between humans and other animals.
Clayton Strange
Monotown: Urban Dreams Brutal Imperatives
ORO Editions/Applied Research & Design, 2019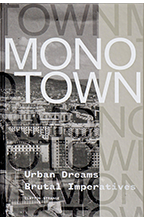 Monotown: Urban Dreams Brutal Imperatives recasts the narrative of the Soviet, single-industry town through its transnational legacy as a vehicle for disseminating socialist space amid the politics of the cold war. As an alternative to Western models, the "monotown" emerged as the instrument of choice in national aspirations to settle the vast hinterlands of Eurasia. Engaging with local histories, regional frameworks, and contemporary projects of postindustrial transformation, the book is a diachronic exploration of case studies across Russia, China, and India, where Soviet models combined with postcolonial circumstances to modernize and radically transform the landscape.
Clayton Strange is an architect, urbanist, and educator. He received a master of architecture in urban design with distinction from the Harvard University Graduate School of Design. He is the founding principal of Strange Works, a Boston-based research and design office.

John Beardsley
Former director of the Garden and Landscape Studies program at Dumbarton Oaks Research Library and Collection
For overseeing the book series Dumbarton Oaks Colloquium on the History of Landscape Architecture and Ex Horto: Dumbarton Oaks Texts in Garden and Landscape Studies, and other special publications.
Charles A. Birnbaum
Founder, CEO, and president of the Cultural Landscape Foundation
For initiating and overseeing the Pioneers of American Landscape Design book series and online project.