Guidelines
Coffin Grant Recipients
Jackson Prize Recipients
Place Maker Award Recipients
Place Keeper Award Recipients
Lifetime Achievement Award Recipients

The John Brinckerhoff Jackson Book Prize for 2021
The Foundation for Landscape Studies is pleased to announce the awardees of the 2021 John Brinckerhoff Jackson Book Prize for recently published books that have made significant contributions to the study and understanding of garden history and landscape studies. The recipients are listed in alphabetical order.
Charles E. Beveridge, Lauren Meier, and Irene Mills, editors
Frederick Law Olmsted: Plans and Views of Communities and Private Estates
Johns Hopkins University Press, 2020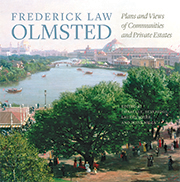 Full of original plans and historic photographs, this beautifully illustrated collection is the first comprehensive presentation of Olmsted's design concepts for communities and private estates. Master landscape architect Frederick Law Olmsted (1822–1903) is renowned for his public parks, but few know the extent of his accomplishment in meeting other needs of society.
Lavishly illustrated with over 500 images, this book presents Olmsted's design commissions for a wide range of projects. The rich collection of studies, lithographs, paintings, and historical photographs depicts Olmsted's planning for residential communities, regional and town plans, academic campuses, grounds of public buildings, zoos, arboreta, and cemeteries. Focusing on living spaces designed to promote physical and mental well-being, the book showcases more than seventy of Olmsted's designs, including the community of Riverside, IL; the Stanford University campus; the U.S. Capitol grounds; the World's Columbian Exposition of 1893; the National Zoo; and George W. Vanderbilt's Biltmore estate.
Illuminating Olmsted's design theory, this volume displays the beautiful plans and reveals the significance of each commission within his entire body of work. Readers concerned with the quality of the environment in which we live and work, as well as architects, landscape architects, urban planners, historians, and preservationists, will find stimulating insights in Plans and Views of Communities and Private Estates.
Charles E. Beveridge is the leading U.S. authority on Olmsted and the series editor of The Papers of Frederick Law Olmsted.
Lauren Meier is a landscape preservationist and a coeditor of The Master List of Design Projects of the Olmsted Firm, 1857–1979.
Irene Mills is a landscape designer. Beveridge, Meier, and Mills are the coeditors of Frederick Law Olmsted: Plans and Views of Public Parks.
Joan Busquets, Dingliang Yang, Michael Keller
Urban Grids: Handbook on Regular City Design
ORO Editions, 2018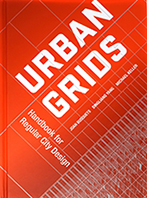 Urban Grids: Handbook for Regular City Design is the result of a five-year design research project undertaken at the Harvard Graduate School of Design. The research that is the foundation for this publication emphasizes the value of open forms for city design, a publication that specifically insists that the grid has the unique capacity to absorb and channel urban transformation flexibly and productively. Urban Grids analyzes cities and urban projects that utilize the grid as the main structural device for allowing rational development and goes further to propose speculative design projects capable of suggesting new urban paradigms drawn from the grid as a design tool.
Joan Busquets, an urban planner and architect, is the first Martin Bucksbaum Professor in Practice of Urban Planning and Design at the Harvard Graduate School of Design.
Dingliang Yang is an Instructor in Urban Planning and Design at the Harvard University Graduate School of Design.
Michael Keller is a landscape and architectural designer and a recent graduate from the Harvard University Graduate School of Design.
Joseph S. Cialdella
Motor City Green: A Century of Landscapes and Environmentalism in Detroit
University of Pittsburgh Press, 2020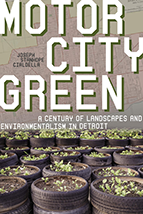 Motor City Green is a history of green spaces in metropolitan Detroit from the late nineteenth to the early twenty-first century. The book focuses primarily on the history of gardens and parks in the city of Detroit and its suburbs in southeast Michigan. Cialdella argues that Detroit residents used green space to address problems created by the city's industrial rise and decline, and racial segregation and economic inequality. As the city's social landscape became increasingly uncontrollable, Detroiters turned to parks, gardens, yards, and other outdoor spaces to relieve the negative social and environmental consequences of industrial capitalism. Motor City Green looks to the past to demonstrate how today's urban gardens in Detroit evolved from, but are also distinct from, other urban gardens and green spaces in the city's past.
Joseph S. Cialdella is the program manager for public scholarship at the University of Michigan.
Gabrielle Esperdy
American Autopia: An Intellectual History of the American Roadside at Midcentury
University of Virginia Press, 2019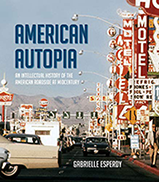 Early to mid-twentieth-century America was the heyday of a car culture that has been called an "automobile utopia." In American Autopia, Gabrielle Esperdy examines how the automobile influenced architectural and urban discourse in the United States from the earliest days of the auto industry to the aftermath of the 1970s oil crisis. Paying particular attention to developments after World War II, Esperdy creates a narrative that extends from U.S. Routes 1 and 66 to the Las Vegas Strip to California freeways, with stops at gas stations, diners, main drags, shopping centers, and parking lots along the way.
Drawing on work published in the popular and professional press, and generously illustrated with evocative images, the book shows how figures as diverse as designer Victor Gruen, geographer Jean Gottmann, theorist Denise Scott Brown, critic J.B. Jackson, and historian Reyner Banham constructed "autopia" as a place and an idea. The result is an intellectual history and interpretive roadmap to the United States of the Automobile.
Gabrielle Esperdy is an Associate Professor of Architecture and Design at the New Jersey Institute of Technology and author of Modernizing Main Street: Architecture and Consumer Culture in the New Deal.
Walter Hood and Grace Mitchell Tada, editors
Black Landscapes Matter
University of Virginia Press, 2020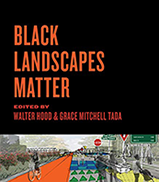 The question "Do black landscapes matter?" cuts deep to the core of American history. From the plantations of slavery to contemporary segregated cities, from freedman villages to northern migrations for freedom, the nation's landscape bears the detritus of diverse origins. Black landscapes matter because they tell the truth. In this vital new collection, acclaimed landscape designer and public artist Walter Hood assembles a group of notable landscape architecture and planning professionals and scholars to probe how race, memory, and meaning intersect in the American landscape.
Essayists examine a variety of U.S. places – ranging from New Orleans and Charlotte to Milwaukee and Detroit – exposing racism endemic in the built environment and acknowledging the widespread erasure of black geographies and cultural landscapes. Through a combination of case studies, critiques, and calls to action, contributors reveal the deficient, normative portrayals of landscape that affect communities of color and question how public design and preservation efforts can support people in these places. In a culture in which historical omissions and specious narratives routinely provoke disinvestment in minority communities, creative solutions by designers, planners, artists, and residents are necessary to activate them in novel ways. Black people have built and shaped the American landscape in ways that can never be fully known. Black Landscapes Matter is a timely and necessary reminder that without recognizing and reconciling these histories and spaces, America's past and future cannot be understood.
Walter Hood is a MacArthur Fellow and Professor of Landscape Architecture and Environmental Planning and Urban Design at the University of California, Berkeley, and principal of Hood Design Studio in Oakland, California.
Grace Mitchell Tada is an independent scholar, writer, and journalist.
Helen L. Horowitz
Traces of J. B. Jackson: The Man Who Taught Us to See Everyday America
University of Virginia Press, 2020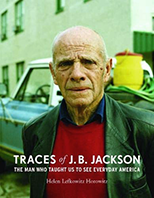 J. B. Jackson transformed forever how Americans understand their landscape, a concept he defined as land shaped by human presence. In the first major biography of the greatest pioneer in landscape studies, Helen Horowitz shares with us a man who focused on what he regarded as the essential American landscape, the everyday places of the countryside and city, exploring them as texts that reveal important truths about society and culture, present and past. In Jackson's words, landscape is "history made visible."
After a varied life of traveling, writing, sketching, ranch labor, and significant service in army intelligence in World War II, Jackson moved to New Mexico and single-handedly created the magazine Landscape. As it grew under his direction throughout the 1950s and 1960s, Landscape attracted a wide range of contributors. Jackson became a man in demand as a lecturer and, beginning in the late 1960s, he established the field of landscape studies at Berkeley, Harvard, and elsewhere, mentoring many who later became important architects, planners, and scholars. Horowitz brings this singular person to life, revealing how Jackson changed our perception of the landscape and, through friendship as well as his writings, profoundly influenced the lives of many, including her own.
Helen Lefkowitz Horowitz, Sydenham Clark Parsons Professor Emerita of History and American Studies at Smith College, is the editor of Landscape in Sight: J. B. Jackson's America and author of the Pulitzer Prize-nominated Rereading Sex: Battles over Sexual Knowledge and Suppression in Nineteenth-Century America.
Martin V. Melosi
Fresh Kills: A History of Consuming and Discarding in New York City
Columbia University Press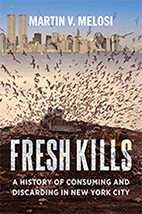 Fresh Kills – a monumental 2,200-acre site on Staten Island – was once the world's largest landfill. From 1948 to 2001, it was the main receptacle for New York City's refuse. After the 9/11 attacks, it reopened briefly to receive human remains and rubble from the destroyed Twin Towers, turning a notorious disposal site into a cemetery. Today, a mammoth reclamation project is transforming the landfill site, constructing an expansive park three times the size of Central Park.
Martin V. Melosi provides a comprehensive chronicle of Fresh Kills that offers new insights into the growth and development of New York City and the relationship among consumption, waste, and disposal. He traces the metamorphoses of the landscape, following it from salt marsh to landfill to cemetery and looks ahead to the future park. By centering the problem of solid-waste disposal, Melosi highlights the unwanted consequences of mass consumption. He presents the Fresh Kills space as an embodiment of massive waste, linking consumption to the continuing presence of its discards. Melosi also uses the landfill as a lens for understanding Staten Island's history and its relationship with greater New York City. The first book on the history of the iconic landfill, Fresh Kills unites environmental, political, and cultural history to offer a reflection on material culture, consumer practices, and perceptions of value and worthlessness.
Martin V. Melosi is Cullen Professor Emeritus of History and founding director of the Center for Public History at the University of Houston. His many books include The Sanitary City: Urban Infrastructure in America from Colonial Times to the Present (2000) and Atomic Age America (2013).
Mariana Mogilevich
The Invention of Public Space: Designing for Inclusion in Lindsay's New York
University of Minnesota Press, 2020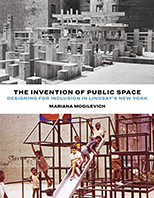 As suburbanization, racial conflict, and the consequences of urban renewal threatened New York City with "urban crisis," the administration of Mayor John V. Lindsay (1966–1973) experimented with a broad array of projects in open spaces to affirm the value of city life. Mariana Mogilevich provides a fascinating history of a watershed moment when designers, government administrators, and residents sought to remake the city in the image of a diverse, free, and democratic society.
New pedestrian malls, residential plazas, playgrounds in vacant lots, and parks on postindustrial waterfronts promised everyday spaces for play, social interaction, and participation in the life of the city. Whereas designers had long created urban spaces for a broad amorphous public, Mogilevich demonstrates how political pressures and the influence of the psychological sciences led them to a new conception of public space that included diverse publics and encouraged individual flourishing. Drawing on extensive archival research, site work, interviews, and the analysis of film and photographs, The Invention of Public Space considers familiar figures, such as William H. Whyte and Jane Jacobs, in a new light and foregrounds the important work of landscape architects Paul Friedberg and Lawrence Halprin and the architects of New York City's Urban Design Group.
The Invention of Public Space brings together psychology, politics, and design to uncover a critical moment of transformation in our understanding of city life and reveals the emergence of a concept of public space that remains today a powerful, if unrealized, aspiration.
Mariana Mogilevich is a historian of architecture and urbanism and editor-in-chief of Urban Omnibus, the online publication of The Architectural League of New York.
Reuben M. Rainey and JC Miller
Robert Royston
University of Georgia Press, 2020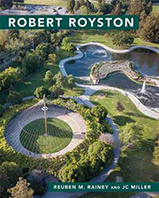 Over nearly six decades of practice, Robert Royston (1918-2008) shaped the postwar Bay Area landscape with visionary designs for public spaces. Early in his career, Royston conceived of the "landscape matrix," a system of interconnected parks, plazas, and parkways that he hoped could bring order and amenity to rapidly developing suburbs. The idea would inform his work on more than two thousand projects as diverse as school grounds, new towns, transit corridors, and housing tracts.
As an apprentice of Thomas Church, Royston gained experience with residential gardens that influenced his early designs for public parks. At a time when neighborhood parks were typically limited to playing fields and stock playground equipment, Royston created imaginative facilities for the American family, offering activities for people of all ages.
Royston, Hanamoto & Mayes, founded in 1958, grew to become one of the nation's most influential corporate firms. With his collaborative approach, Royston designed landscapes that set a high standard of inclusivity and environmental awareness. In addition to the many beloved places he created, his perceptive humanism, which passed down to his students, is Royston's enduring legacy.
Reuben Rainey, FASLA, professor emeritus at the University of Virginia and codirector of the Center for Design and Health at the University of Virginia, he writes on on topics ranging from Renaissance landscape to modern "healing gardens."
JC Miller is a partner at Vallier Design Associates in Point Richmond, California, and director of the Landscape Architecture Certificate Program at UC Berkeley Extension.
Tom Williamson
Humphry Repton: Landscape Design in an Age of Revolution
University of Chicago Press/Distributed for Reaktion Books Ltd., 2020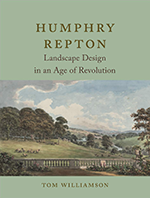 Humphry Repton (1752–1818) remains one of England's most interesting and prolific garden and landscape designers. Renowned for his innovative design proposals and distinctive before-and-after images, captured in his famous "Red Books," Repton's astonishing career represents the link between the simple parklands of his predecessor Capability Brown and the more elaborate, structured, and formal landscapes of the Victorian age. This lavishly illustrated book, based on a wealth of new research, reinterprets Repton's life, working methods, and designs, and examines why they proved so popular in a rapidly changing world.
Tom Williamson is professor of landscape history at the University of East Anglia.