Mariana Griswold Van Rensselaer
By Judith K. Major
University of Virginia Press
2013
Review by Keith Morgan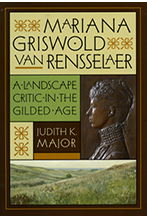 For students of American landscape history, Judith K. Major has produced a nuanced and careful analysis of the landscape-gardening criticism of Mariana Griswold Van Rensselaer (1851–1934), set within the framework of that author's fascinating life story. Like Van Rensselaer, Major engages with issues of class, taste, education, travel, and professionalism—and the position of women within this changing matrix. In explaining her motivation for writing Mariana Griswold Van Rensselaer: A Landscape Critic in the Gilded Age, she notes that Van Rensselaer's
writings on landscape gardening (she preferred this nomenclature over "landscape architecture") in Garden and Forest: A Journal of Horticulture, Landscape Art, and Forestry (1888–1897) have received scant attention. Most important, she is unacknowledged as the author of over 330 of the journal's editorials and other unsigned articles. Only a small percentage of these writings, retitled and revised, were included in Art Out-of-Doors: Hints on Good Taste in Gardening (1893). This book seeks to establish Van Rensselaer as one of the most significant figures of late-nineteenth-century landscape architecture.
Van Rensselaer's particular gift, according to Major, was her perception of landscape gardening as something intimately connected to and indivisible from the arts of painting, sculpture, and architecture.
Major is successful and thorough in giving us the personal background on Van Rensselaer that we need to understand the contributions of this widely-accomplished woman. During her childhood, her parents' Fifth Avenue address placed the Griswolds in the world of Astors and Vanderbilts. Architectural historians will be pleased to learn that Richard Morris Hunt designed the classic Stick Style residence of Marina's uncle J. N. A. Griswold in Newport in 1864. She passed her adolescence primarily in Europe, receiving an informal education through reading and travel. We learn about the people that she met and, more importantly, the books she read and their impact on the formation of her mind and taste. Unlike so many of her countrymen, she did not admire the works of John Ruskin, whom she frequently criticized in her later writing. On the other hand, she was drawn to the books of Matthew Arnold, especially his Literature and Dogma (1873). More importantly, she read and praised Charles Darwin and Alexander von Humboldt, gaining for her later criticism a sophisticated base in the scientific analysis of the natural environment. At age twenty-one, Mariana married Schuyler Van Rensselaer, who was descended from an old and distinguished New York family, and the couple returned to the United States.
Van Rensselaer launched her writing career with art criticism for the short-lived journal American Art Review (1879–1881). Subsequently she was published in the most important journals of the age: Century, Harper's, Scribner's, the Atlantic, and the North American Review. Her essays treated manners, the changing world of educated women, art, architecture, and landscape, among others. In 1886 Frederick Law Olmsted wrote to express his enthusiasm for her criticism of designed landscapes, ending with "I want to see more." (25) She was keenly interested in Olmsted's work, especially Olmsted's collaborations with his friend and Brookline neighbor, architect Henry Hobson Richardson, whose work she was praising in Century at that time. Those associations led to her most important opportunity in architectural criticism, a monograph on Richardson, written after his premature death in 1886. The supporters of that project were both Olmsted and another Brookline neighbor, Charles Sprague Sargent, director of the Arnold Arboretum. Henry Hobson Richardson and His Works (1888) became the first major monograph on an American architect and the foundation for all later scholarship on Richardson. Because Van Rensselaer had written on both architects and landscape architects, she had the right sympathies for the project, although she reported being glad that she did not know Richardson better so she could remain objective. The involvement of Sargent in this project led to the most important long-term writing opportunity of Van Rensselaer's prolific career, the editorials and articles that she contributed to Garden and Forest during its single decade of existence.
As Ethan Carr points out in his fine but short essay "Garden and Forest and 'Landscape Art,'" published as part of a series of online articles that supplemented the digitization of the journal by the Library of Congress, it was largely thanks to Van Rensselaer that Garden and Forest "helped define the emerging theory of the profession" of landscape architecture. She "contributed a total of almost fifty articles, beginning with a seven-part series on "Landscape Gardening" in 1888." In these essays, Carr writes, "she set out to define landscape architecture as 'landscape art,' which, after architecture, sculpture, and painting, constituted the 'fourth art' of design. To Olmsted's great satisfaction, she helped establish the professional status of landscape architects by defining their practice as a fine art, unlike the craft or trade of gardening."
Garden and Forest sadly lacks an archive that would allow a modern scholar to trace the genesis of articles and issues. Lacking that hard evidence, Judith Major has done scholars of American landscape history a significant service in identifying 333 submissions by Van Rensselaer that were published in the journal. These include signed articles; editorials and articles that were reworked for her 1893 publication, Art Out-of-Doors; and others that Major attributes on the basis of her knowledge of the writer: her background, interests, and prejudices. As she states in the important appendix that lists these contributions, "I know what writers she admired and what journals she read. She tended to begin a piece with a historical treatment of the subject. She was a competent botanist and believed that scientific study enhanced the knowledge of nature."
Major's decade-long engagement with Van Rensselaer's writings in the journal permits her to analyze them in detail. She intertwines a chronology of her subject's life, including the tragic deaths of her husband, son, and sister, and describes her travels, especially the places where she chose to spend her summers. Thus we are able to learn much about the woman, which helps us to understand the nature and intentions of her criticism at various points in time.
As Major faithfully records, Olmsted was not always pleased by Van Rensselaer's opinions, disagreeing with her, for example, about the name of his profession, which she insisted be called landscape gardening. Assuming that certain editorials came from his Brookline neighbor Charles Sprague Sargent, the man who directed the journal, Olmsted complained to Van Rensselaer about the confused ideas they contained, only to discover that Van Rensselaer was the author. This is important to know so that no one should criticize her unfairly for being merely an Olmsted mouthpiece. Indeed, she and Olmsted often shared opinions and even collaborated on projects, as when Van Rensselaer wrote in support of the campaign to create the Niagara Reservation between New York State and Canada. Indeed Van Rensselaer's nearly unwavering praise of Olmsted's work helped to establish his reputation as "the greatest living master of his craft," to use her words, although Olmsted reminded her to give credit to his several design partners as well. (124)
Midway through the run of Garden and Forest, Van Rensselaer gathered and edited materials from her various essays and unsigned editorials for a general book on landscape gardening. Titled Art Out-of-Doors: Hints on Good Taste in Gardening, it was published in 1893. With it an important distinction could be drawn between the writings of this landscape critic and Charles Eliot, a partner in the Brookline firm of Olmsted, Olmsted & Eliot, who was also an important contributor to Garden and Forest in its early years. When Eliot reviewed the Van Rensselaer book, he expressed reservations:
It is regretted that no general account of either the breadth or the depth of the subject described by its title is to be found in the book. Its various chapters deal lightly and pleasantly with such special problems as the grouping of trees and shrubs, the attachment of houses to their sites, roads and paths, formal gardens, piazzas, and so on; the pleas of the book being that all such problems should be solved in an "artistic spirit." The advice offered is well put, and the book should have a multitude of readers. Our only fear is lest the author has inadequately warned these readers of the facts, that good "art out-of-doors" must be founded in rationality, purpose, fitness; and that its field is not only the garden, the shrubbery, and the park, but also the village, the factory, and the railroad yard. According to this book, landscape architecture is much like house-furnishing: a selecting of agreeably harmonizing elements in the shape of buildings, rocks, trees, climbing-plants, and so on. The essentially virile and practical nature of the art and profession is ignored, together with most of its greater and more democratic problems. But when this has been said and allowances made, the book remains the best book in its field that we have had in many a day. Its style is exceedingly good, and its tone puts it above comparison with the books of the horticulturalists which are its only contemporary rivals for the public ear.
Eliot claimed a broader, less genteel definition for the profession of landscape architecture, wishing the term to be understood as dealing with the manipulation and improvement not just of parks and residential properties but the entire face of the earth. Despite his hopes for a more "virile" understanding of the topic, Eliot nevertheless had to admit that Art Out-of-Doors remained "the best book in its field that we have had in many a day."
As Major reports, the French landscape architect Edouard André also found the potential impact of Van Rensselaer's writing to be limited because it was too "high-class." Nevertheless, Frederick Law Olmsted Jr. and Arthur Shurcliff, who were early professors of landscape architecture in the program they organized at Harvard beginning in 1900, included the book as a required text, as did other academics of the early twentieth century.
Major's earlier work on Andrew Jackson Downing, who could be seen as the first critic of the American landscape, landscape gardening, and horticulture, gives her a unique perspective on Van Rensselaer. Somewhat like Downing, Van Rensselaer saw landscape gardeners as artists. She began her contributions to Garden and Forest with the seven-part series in which she defined the nature of landscape gardening, somewhat as she had done previously for the journal American Architect. One of the most important contributions of this book is Major's careful unpacking of these seven essays and their backstories. Another great pleasure of this text is the illustrations, which include many that have not been published previously or at least recently. Major has made an exemplary effort to provide visuals for places and people mentioned in the text. There is also a substantial corpus of images of the author at various stages of her life. Both Major and the University of Virginia Press are to be commended for having included a bibliography, an element that is sadly being eliminated from many scholarly publications for financial reasons.
Although Major has produced a probing and convincing analysis of Van Rensselaer's writings in the field of landscape gardening, a text that holistically treats all the elements of her career—including art, architecture and social issues—is still needed for those interested in Van Rensselaer's broader impact. Major's finely detailed analysis, however, will undoubtedly reestablish the significance of this writer and her work in the history of American landscape architecture and landscape criticism. — Keith Morgan
Keith Morgan is director of architectural studies at Boston University. His recent publications include Community by Design: The Olmsted Office and the Development of Brookline, Massachusetts; Buildings of Massachusetts: Metropolitan Boston, for which he served as editor and lead author; and a new introduction for the republication of Charles Eliot, Landscape Architect.