Spying on the South: An Odyssey Across the American Divide
by Tony Horwitz
New York: Penguin Press
2019
By Reuben M. Rainey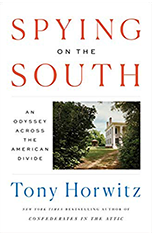 Journalist and travel writer Tony Horwitz's Spying on the South: An Odyssey Across the American Divide is an engaging and perceptive tapestry interweaving history, biography, and travelogue. While downsizing his personal library, Horwitz came upon one of his old college history books, Frederick Law Olmsted's The Cotton Kingdom, A Traveller's Observations on Cotton and Slavery in the American Slave States 1853–1861. This classic of antebellum American history was based on dispatches to the New-York Daily Times (now the New York Times), written by the thirty-year-old Olmsted well before he co-designed Central Park and emerged as America's foremost nineteenth-century landscape architect. In 1852 Olmsted, eager to find a vocation that suited him, was commissioned by Henry Raymond, founder and editor of the fledgling Daily Times, to travel incognito on two journeys to the South to report on politics, culture, and the institution of slavery. Raymond wanted a fair account: devoid of invective and tempered with "honesty of observation."
When Horwitz rediscovered Olmsted's vivid and insightful travelogue, written under the nom de plume Yeoman, he was captivated immediately. It was the year of the tumultuous and controversial 2016 presidential campaign, and Horwitz was struck by "inescapable echoes" of Olmsted's narrative reverberating in the contemporary United States: "extreme polarization, racial strife, demonization of the other side," and "enflamed opinion [prevailing] over seasoned dialogue and debate." Horwitz decided to investigate these sobering similarities by acting as Olmsted's doppelgänger. As precisely as possible, he replicated the second and longest of Olmsted's journeys: the 1853–54 expedition that extended from Maryland to the West Texas border with Mexico. Traveling in Olmsted's wake, Horwitz recounts his experiences in the exact locations Olmsted described, using highly engaging and instructive cinematic flashbacks to compare them to his predecessor's. The result is both a succinct biography of Olmsted that focuses on his early life and a narrative of two adventurous journeys, interspersed with interesting sidetracks into regional history and a revealing CAT scan of Southern political and racial attitudes on the eve of Donald Trump's election. An added attraction is Horwitz's ability to provide vivid and sometimes humorous descriptions of the South's cultural landscapes.
Horwitz, who died recently at the age of sixty, was one of America's most distinguished journalists and travel writers. His national reporting for the Wall Street Journal won him a Pulitzer Prize, and his work as a foreign correspondent in Europe and the Middle East was highly regarded. The subject matter of his numerous books was wide-ranging: John Brown's raid, the cultural landscape of the Australian outback, Viking exploration of North America, and the voyage of Captain Cook. His most popular book remains Confederates in the Attic: Dispatches from the Unfinished Civil War (1998), in which he reported on current attitudes towards the Civil War, primarily in the South. A highly respected historian as well as a journalist, Horwitz was elected to the prestigious Society of American Historians and served as its president.
Horwitz brings to bear his vast experience as a journalist in Spying on the South. He is gifted with the essential ability of all great interviewers: he knows how to get people to talk freely and candidly. He strives to be a nonjudgmental listener and report accurately on thoughts and attitudes. On occasion he becomes an active participant in his interviewees' activities, such as a wild mud fest of monster trucks in rural Louisiana or a service in a black church in New Orleans.
Olmsted traveled four thousand miles in nine months, whereas Horwitz spent two years and a day covering the same territory, ending a week before Trump's election. From West Virginia to the Texas border with Mexico, he conversed with Southerners in many walks of life: bartenders, waitresses, farmers, factory workers, retired teachers, museum directors, guides at historical sites, former state legislators, coal miners, businessmen, shopkeepers, riverboat pilots, oil-field workers, clergymen, former sharecroppers, local amateur historians, coal-barge workers, historic-figure impersonators, traveling salesmen, and immigration officers. Like Olmsted, he endured the local food – monotonous, fried, and unhealthy. Regarding local bars as especially important venues for candid opinions, Horwitz frequented them, imbibing a plethora of strong and exotic drinks. He also attended a wide range of civic and recreational events: a gun show in Texas, a reenactment of the Battle of the Alamo in San Antonio, and a raucous boat race in rural Louisiana. He went so far as to replicate Olmsted's modes of transportation, utilizing trains, steamboats, and horses. Riding a mule in the Hill Country of Texas, he was head-butted by his ornery mount, suffering a serious concussion that required him to return home to recuperate before resuming his travels.
Horwitz touches on a number of economic, political, and environmental themes, highlighting them with poignant, disturbing, and humorous commentary. He notes the decline of American manufacturing in many areas, especially West Virginia, and the unemployment it leaves in its wake. He describes strong currents of racism in East Texas; polluting industries of enormous scale in Louisiana and historic markers that whitewash slavery; and ugly and dysfunctional sprawl development in all the states he visits. He notes the prevalence of evangelical Christianity, with its anti-intellectual distrust of science, throughout the South. He visits the Creation Museum in Kentucky, which dates God's creation of the world to 4004 BC, depicts Adam and Eve bathing in a pool surrounded by dinosaurs, and claims the Grand Canyon was created by the flood described in the book of Genesis.
Among the people he meets there is much distrust of big government, which is perceived as limiting individual freedom. Democrats are almost nonexistent in most areas. Radical, far-right political groups are on the rise, including one that advocates Texas's secession from the Union. In the town of Crockett in East Texas, the author encounters a group of locals convinced there is a terrorist-training compound in their vicinity. Horwitz presents them with clear evidence that this is actually the vacation home of a Pakistani doctor, but they refuse to believe it.
Horwitz's narrative is not entirely bleak. He notes the vitality of multicultural populations in New Orleans and Houston and the efforts of citizen groups to revise historical markers, museums, and house tours to reflect a more comprehensive and accurate view of the role of minorities in American history. He describes efforts to reinterpret the Battle of the Alamo to represent the Mexican perspective. While attending a black church service in New Orleans, he is moved by the openness and friendliness of the congregation and the strong spirit of community created by the hymns and preaching. At the end of his journey, while visiting the city of Eagle Pass on the Mexican border, he is impressed by the family-centered optimism and energy of descendants of Latinx immigrants as well as their confidence that they will be able to achieve a better life in this country. While he laments ugly sprawl throughout the South, he finds that some of the beauty of the landscape Olmsted described still exists, especially in the pastoral grasslands of Kentucky and the Guadalupe River corridor of the Texas Hill Country.
Texas receives the most attention. As the state with the fastest growth rate, the most ethnically diverse city in the country (Houston), and the flash point of immigration along its borders, Texas is, to Horwitz, a bellwether of the nation. He notes that Olmsted devoted much of his travelogue to Texas too and was fascinated by the diversity of its landscapes, history, and population. He especially admired the German immigrant communities in and around New Braunfels, with their prosperous, free-labor agricultural system and highly cultured residents. Olmsted hoped they would secede from the existing slave state of Texas and create their own free-labor state that would block the expansion of slavery to the West.
The portrait of Olmsted that emerges is nuanced and well documented. Horwitz carefully mined the extensive literature on Olmsted produced over the last thirty years by such scholars as Laura Wood Roper, Elizabeth Stevenson, Elizabeth Barlow Rogers, Charles C. McLaughlin, Charles E. Beveridge, David P. Schuyler, Ethan Carr, and others. He is especially indebted to the works of McLaughlin and Beveridge, whom he knew personally. Readers unfamiliar with Olmsted's life will find Horwitz's biography informative, succinct, and perceptive. Those more familiar with the subject will find that Horwitz traverses familiar ground, but will appreciate his meticulous use of primary sources and careful selection of quotations. He skillfully analyzes Olmsted's shift from relatively objective reporter to ardent opponent of slavery. The neophyte journalist's opinions changed as he observed the cruelty of slavery firsthand and experienced the white supremacist arrogance of the Southern upper class.
Horwitz highlights the young Olmsted's admirable championship of democratic principles and the older one's skill as a planner and designer of some of America's greatest parks and civic spaces. But he examines the complexity and contradictions of Olmsted's personality as well. At times Olmsted would behave as an "artist and republican"; at other times act like a "bureaucrat and imperialist," fueled by an obsessive work ethic.
Horwitz's biography is not a hagiography. He claims that Olmsted, with his advocacy of suburbs, was partially responsible for the cookie-cutter developments that pockmark the US landscape today. (He does acknowledge that Olmsted would be appalled at their quality.) He criticizes his failure to champion the welfare of former slaves by speaking out against Jim Crow laws and the rise of white supremacism in the South after Reconstruction. He also appears to disapprove of the fact that Olmsted accepted commissions from the superrich of the Gilded Age at the end of his career. He views this as a waning of his subject's egalitarian and anti-aristocratic political views.
A once ardent opponent of elites and supporter of state initiatives to uplift the poor, Olmsted ended up designing an immense interpretation of a French Renaissance chateau in a dirt-poor region of North Carolina through which he had once ridden. This was Biltmore – the 250-room Vanderbilt estate near Asheville – the largest private residence in America. Horowitz does not give sufficient credit to the idealism of initiatives such as this, claiming that the Vanderbilt project revealed "a dimming of the democratic fire" of Olmsted's younger days. While he does note that Olmsted persuaded his client, the young George Washington Vanderbilt II, to initiate some socially beneficial projects – the nation's first school of scientific forestry and a research arboretum – he fails to mention that Olmsted went even further at Biltmore. He convinced Vanderbilt to create a commercial dairy, the herds of which would be used to improve the quality of the cattle of the region's poor farmers. With Olmsted's encouragement, Vanderbilt also funded, a well-planned village for employees of the estate. This was to include housing for the scientists working in the arboretum. These initiatives at Biltmore and similar programs incorporated into other commissions persuade me that Olmsted's democratic values remained strong. He expressed them as best he could in the Gilded Age by persuading his clients to include socially progressive elements in their projects. The alternative would have been to walk away and fail to exert any positive influence at all.
Horwitz concludes his book by comparing our divisive era with that of Olmsted's. He notes similarities: "The most glaring parallel was the retreat into tribal and partisan camps, tuned to frequencies so divergent that the reasoned discourse Yeoman had initially sought was a virtual impossibility." But he found that many of the Trump supporters he met on his journey were decent, friendly people with severe economic problems, not hopeless bigots as they are sometimes portrayed. He concludes our national divisions are "not by a long shot" at the 1861 level, but a sense of national unity and mutual understanding is sorely lacking.
Despite these discouraging reflections, Horwitz ends with a narrative of hope. In the last chapter he recounts a visit to Central Park. Observing the ethnic diversity of park users and their positive interactions with one another, he concludes that Olmsted's democratic vision of the Park is alive and vibrant. This perception is reinforced by a bicycle tour with a former commissioner of the New York City Department of Parks and Recreation, Adrian Benepe, who remarks that "people come together serendipitously; they see others who don't look like them, who are doing and enjoying the same things . . . . That contributes to a tolerance and harmony you don't see in many other cities."
The last persons Horwitz meets in the park are a black boy and his younger companion. The older boy tells him his favorite thing to do in the park is to explore and go where he pleases – sometimes getting lost. Horwitz tells the boy that Frederick Law Olmsted, the man who designed the park, would be pleased he used it that way. As the boy departs, he replies, "Tell Fred he did good."
This is how Horwitz ends the book, not with a sermon about the problems of the nation, but with an image of a black boy happily exploring the realms of America's greatest civic space, embodying the deepest values of a democratic society. Despite his often grim diagnosis of the nation's current health, Horwitz reminds us we have a great legacy of public places created by Olmsted and others: places that nurture tolerance, mutual understanding, and strong community bonds through shared rituals of remembrance and celebration. The fact that these spaces continue to exist and thrive confirms that we as a people – despite our all-too-evident differences – have the capacity for mutual respect and empathy.