Garden At Monceau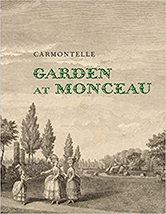 By Carmontelle
Elizabeth Barlow Rogers, Editor
Joseph Disponzio, Managing Editor
Andrew Ayers, Translator
Published by the Foundation for Landscape Studies and Oak Spring Library, 2020
Distributed by Yale University Press University Press
Originally published in 1779, Garden at Monceau is a richly illustrated presentation of the garden Carmontelle designed on the eve of the French Revolution for Louis-Philippe-Joseph d'Orléans, duc de Chartres. With its array of architectural follies intended to surprise and amaze the visitor, the garden was a setting for ancien régime social life. Carmontelle's portrayal of his work in Garden at Monceau therefore serves as an expression of a key moment in the history of European landscape design, garden architecture, and social history.
This facsimile edition, with its English-language text and reproductions of the original engravings, includes an introduction by Laurence Chatel de Brancion and essays by Joseph Disponzio, Florence Gétreau, David L. Hays, Elizabeth Hyde, Susan Taylor-Leduc, Caroline Weber, and Gabriel Wick that interpret the garden's landscape design and examine Carmontelle's larger career as a painter and theater producer.
To purchase your copy, click here.