New York Environs
For a comprehensive list of outdoor recreational experiences in the five boroughs, you might start with the postings of the New York City Department of Parks and Recreation.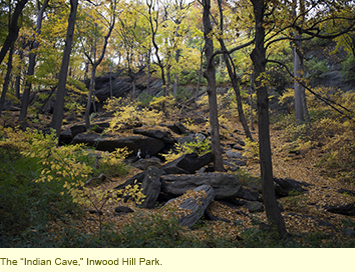 If you're an urban hiker, you can find a number of great trails within the city limits along with good descriptions of several.
To view the Hudson River, East River, Long Island Sound, New York Harbor, and the city's great Atlantic beaches up close and energetically, consider hooking up with the Shorewalkers.
Did you know that there is a national park within the city limits? The Jamaica Bay and Staten Island units of the 26,607-acre Gateway National Recreational Area, provide opportunities to learn about wetland ecology and engage in a host of recreational activities, including ocean swimming, bird watching, and boating. It's easy to plan your visit.
At Floyd Bennett Field on the western edge of Jamaica Bay, New York Harbor Parks offers regular ranger-led tours as well as opportunities to pitch a tent and sleep under the stars at an overnight campsite.
You might wish to make the famous boardwalk running the length of the Rockaway Peninsula a special destination. Here you'll experience a stretch of Atlantic Ocean beaches that are as spectacular as those in the Hamptons – without the hundred-mile drive to the eastern end of Long Island. If you're interested in taking a bike tour, attending free public events, or volunteering to help reclaim the dunes and protect fragile areas in the Rockaways, check out the programs offered by the Rockaway Waterfront Alliance.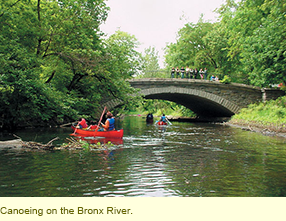 If you'd like to explore the northern reaches of New York City, the Bronx River Alliance, the Village Community Boathouse, and the Park Department's NYC Water Trail, offer some great opportunities for sailing, kayaking, and canoeing.
Interested in bird-watching? Walking in the Central Park Ramble with an ornithologist from the American Museum of Natural History can turn a novice into an expert before long. In addition, the New York City Chapter of the Audubon Society offers several good birding tours throughout the year.
Should you wish to range further afield, the Appalachian Mountain Club sponsors an array of fun outdoor activities.
For armchair travelers who want to learn about the city's great green places, the recently published Green Metropolis: The Extraordinary Landscapes of New York City as Nature, History, and Design is the essential guide to the Staten Island Greenbelt, Inwood Hill Park at the northern tip of Manhattan, the Jamaica Bay Wildlife Refuge adjacent to JFK Airport, the Central Park Ramble, Roosevelt Island, the High Line, and Fresh Kills (a 2,200-acre park-in-the-making).
If you'd like to tell us about your experiences in these and other great outdoor places in New York City, please contact us!