Romantic Rome
Since the days of the empire, Rome has been a destination for travelers of all stripes—medieval and Renaissance pilgrims, eighteenth- and nineteenth-century century Grand Tourists, and twentieth- and twenty-first century vacationers and students. If you have not planned a trip to the Eternal City this summer (or even if you have), we hope that between now and September 11 you will find an opportunity to visit City of the Soul: Rome and the Romantics at the Morgan Library & Museum. Conceived by the Foundation for Landscape Studies in collaboration with the Morgan, it is a wonderful follow-up to our previous joint effort, the 2010 exhibition Romantic Gardens: Nature, Art, and Design.
Co-curated by John Pinto, FLS board member and Princeton University's Howard Crosby Butler Memorial Professor of Art and Archaeology Emeritus, and John Bidwell, the Morgan's Astor Curator and Department Head of Printed Books and Bindings, this choice exhibit explores Rome from 1770 to 1870 in all its moving, amusing, and heartbreaking splendor.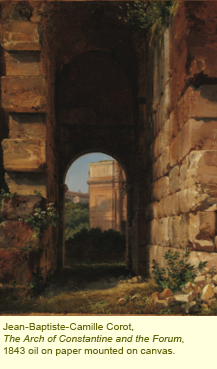 Because the past is especially palpable in Rome, the city and its surrounding landscape have provided inexhaustible inspiration to architects, artists, and writers through the ages. Among the treasures displayed in City of the Soul is a selection of paintings that highlight ancient ruins. Camille Corot's evocative The Arch of Constantine and the Forum (1843) is a standout in this category.

Since Rome was the home of Renaissance popes and cardinals, there are fine depictions of their sumptuous villas and gardens. Of particular note is Edgar Degas's 1711 sketch, View of the Villa Borghese from the Gardens of the Villa Medici, and a watercolor by Thomas Jones, View of the Villa Maecenas at Tivoli and the Villa d'Este, Tivoli (1777).

The exhibition also portrays Romanticism in the written word. First editions of poems and novels give us a vision Rome through the eyes of Byron, Hawthorne, Dickens, and other famous authors. Manuscripts of letters record personal impressions of these and other notable visitors.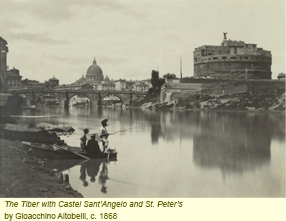 The possibilities of recoding the city's past and present expanded with the invention of photography. Tourists seeking mementos of the scenes they had experienced found this new medium of expression a boon. It is fascinating to view in the same gallery Giovanni Battista Piranesi's etched View of the Ponte Sant'Angelo of 1750 and Gioacchino Altobelli's 1868 photograph of The Tiber with Castel Sant'Angelo and St. Peter's.

To complete this vicarious experience of the greatness of Rome, don't miss the interactive, virtual tour prepared by the curators. The beautiful catalogue that accompanies the exhibition, including an excellent introductory essay by John and Meg Pinto, offers another opportunity to enjoy a Roman holiday with no plane ticket required.