Place Travels

From Vienna to Prague: A Tour of the Czech Greenways
May 22-May 31, 2011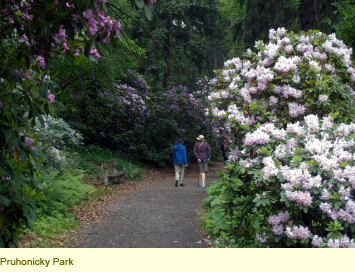 Led by landscape architect Stefan Yarabek and travel guide Barbora Hammondová, the Foundation for Landscape Studies' nine-day tour of the Czech Greenways traced landscape monuments between Vienna and Prague that are part of the national heritage of the Czech Republic. Participants had opportunities for biking and hiking through beautiful, forested areas and met with several stewards of parks, gardens, and castles. The group visited the Belvedere and Schönbrunn châteaux in Vienna; Valtice and Lednice, the winter and summer châteaux of the Lichtenstein family that together form a UNESCO World Heritage Site; Vranov nad Dyjí, an eighteenth-century castle overlooking a river canyon and a prime example of the Czech Baroque style; the town of Telc, a World Heritage Site with a restored Renaissance square and château; Slavonice, also a meticulously restored Renaissance town; Česklý Krumlov's gardens, on the banks of the Vltava River in South Bohemia; Pruhonicky Park, a Romantic landscape with winding paths and rhododendron dells; and Prague, with its incomparable cityscape and innumerable cultural attractions.
Tour Extension: The World of Prince Pückler-Muskau
June 1-3, 2011
Several participants in the Czech Greenways tour continued by train to Berlin and then by van to visit the parks of Muskau and Branitz, Prince Pückler-Muskau's Romantic landscape creations on the border between Germany and Poland. At Muskau they traveled by carriage along winding drives, admiring long meadow views designed by the prince. Then they visited the recently restored castle, which houses an exhibition on the creation of the park as a major work of landscape art. At Branitz, the prince's smaller, companion estate nearby, they were conducted through his final home and enjoyed a gondola ride on the lake that surrounds the pyramidal earthwork where he is buried.