The Creation of Cental Park Conservancy
June 18, 2014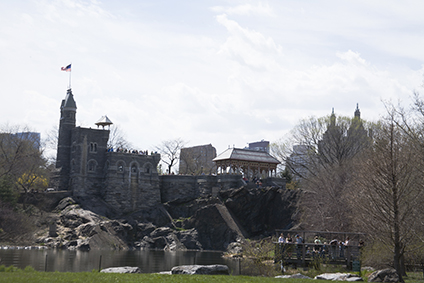 Today the Belvedere, the charming castle perched on Vista Rock in the center of the park, looks like this. It is only one of many projects that testify to the rebirth of Central Park. For those who lived in New York City in the 1970s, the transformation of Central Park between 1980 and today is nothing short of a miracle. The first sign of change was the restoration of the Dairy's original architecture and the conversion of the building from a Parks Department storage facility to a visitor center. Concurrently the Sheep Meadow, then a barren dust bowl, was reclaimed as a greensward for passive recreation. Subsequent projects included the restoration of the park's centerpiece, Bethesda Fountain, and the fountain's surrounding Terrace. Playgrounds and ball fields were restored as well. A vandalized, burnt-out boathouse adjacent to the Harlem Meer was replaced by the Dana Discovery Center, an environmental education facility.
What lessons can be learned from the conservancy's success?
By originating the concept of public-private partnerships to support parks, the conservancy has become a model for organizations developing and restoring public parks throughout the United States. Today many seek to emulate its success. Here, in brief, are some of the things the conservancy did to make Central Park clean, safe and beautiful after a long period of misuse, management neglect, and underfunding:
Started with a comprehensive vision and articulated this vision in a clear, succinct mission statement.
Ensured political support of the mission by gaining endorsements and backing from local public officials.
Obtained their agreement that government support would not be diminished because of private fundraising efforts.
Built up a strong board of philanthropists, civic leaders, legal and accounting professionals, and representatives of constituencies with direct ties to the park.
Developed a long-range plan for implementing the mission, which could also serve as a case statement for fundraising.
Prepared a capital budget for long-range and current projects within the holistic context of the management and restoration plan for the entire park.
Prepared an annual operating budget for the conservancy's contribution to the maintenance of the park over and beyond the government's budget for salaries of public-service employees and outside contractors.
Remembered that the principal key to success—political, fundraising, and operational—is leadership, which is passionate, visionary, and capable of maintaining employee morale and volunteer enthusiasm.
To view a the video made by a team from the Columbia School of International and Public Affairs about the people responsible for the creation and ongoing administration of the Central Park Conservancy, click here.
To learn more about the Central Park Conservancy, click here.